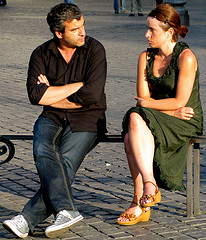 When it comes to relationships it's really important to understand that it isn't always easy to live with someone else even though you have many things in common. But love is essentially about compromising, in fact you need to entirely accept your partner, that is to say his qualities but also all the things that he doesn't do right. Here are some valuable tips on how you can make your home a better place for you and your man.
Learn to Understand your Man
The common mistake of human beings is that we all like to be understood before trying to understand others. But if you try to do the opposite, that is to say listening and understanding others before wanting to be understood, then you'll see that you'll communicate better with others. You can try to apply this principle with your partner and you'll see that the communication between you and your lover will be improved.
Topics: marriage, relationships, talking