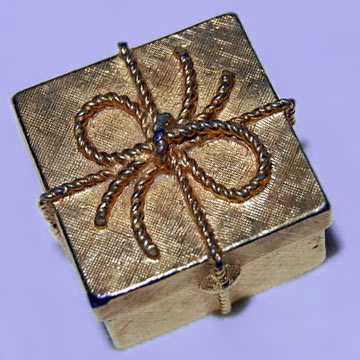 Knowing exactly what to people for Christmas is a gift in itself, particular when it comes to choosing for your partner. Do you opt for something expensive and extravagant? Or keep to something sentimental and priceless? If you need a little inspiration this winter, read on for 5 tips for buying a Christmas present your boyfriend will love.
1. Do some detective work
The best Christmas gifts are those that take the recipient by surprise, in a good way. If you've only been dating for few weeks, there's probably plenty of scope to uncover more about him. Talk to his friends and family if possible, and find out more about his interests and passions. Perhaps you can find out what his favorite film was when he was a child and buy him limited edition artwork or signed merchandise. Is there something your partner has dreamt of doing since he was a little kid, such as taking a tour around his football team's stadium? Gift experiences make brilliant surprise gifts and something to look forward to in the future of your relationship.
2. Consider what he needs
Practical gifts can be dull (who wants more socks?) but if there's something you know your boyfriend really needs, it can save him his own hard earned cash. Perhaps his football boots are looking a bit shabby, or you've noticed a few too many builders' bums and he could do with a nice new belt? Add a touch of glamour and indulgence to your practical gift by opting for a designer option.
There may be things that your partner doesn't realize he needs, things that could inspire and help him with career goals or lifelong dreams. As a child, books are often the most unwanted Christmas gifts but as an adult they can be a great source of inspiration and education. Does your partner dream of becoming a self-made millionaire? Gift him with interesting books on how to make it in business.
3. Be playful
Don't be afraid to use your sense of humor when choosing your Christmas presents. Do you have any 'in-jokes' between the two of you? To ensure a smile, buy a gift (however small) that relates to this. If you're going to buy something big and expensive (think bmx, plasma TV, games console) lead them off the trail with a tiny box or envelope under the Christmas tree! Give them a cryptic note inside that directs them elsewhere to find their real present.
4. Find something unique
Think about what your boyfriend likes in terms of films, sports and TV. You can finds lots of brilliant and unique gifts that relate to these online, such as: signed photos, signed prints, replica props and exclusive merchandise.
If you want something really unique, why not handcraft something too? This doesn't mean knitting them a frumpy jumper or getting the paper mache out; how about making a framed collage of their favourite football team? Or a printed photo book of memories of the two of you together.
5. Be generous
Generosity doesn't have to mean spending hundreds of pounds; sometimes it means spending a lot of time and thought in choosing several little personal gifts. Think about how long you've been going out however, hundreds of presents for the man you've been seeing for a couple of weeks might be a bit excessive!
Christmas is an ideal time to splash the cash too. Does your partner insist on paying for everything? Now's the time to treat them to something lavish you know he'll love. Designer clothes and expensive watches usually go down with men who like a pricey treat or two. Plus, when your partner knows how hard you work for your money, a costly gift is appreciated.
If you're still not sure on how to go about buying your partner the perfect gift, online shopping makes it easier than ever. Web stores list popular Christmas items and even make it possible to sort via price bracket or recipient. You could even ask your boyfriends to share a few ideas with you online, Pinterest and similar scrapbooking sites make it simple to compile and share the products he loves.
This advice was written by Barrie from Presents for Men – offering a unique collection of over 3000 Christmas gifts, gadgets & accessories for men, girls, the home & travel not on the High Street.