Guys who want to meet the right girl online, and have a future with the girl do have challenges. Some girls want to promote themselves as something they are not, or put up fake profiles to impress the guys.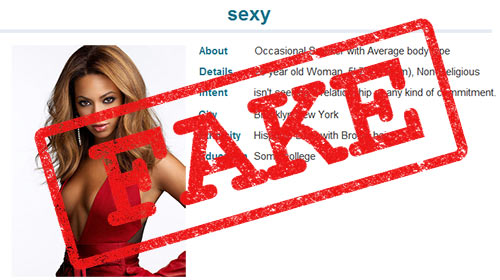 Sometimes, the age of the girl comes into play. Ages can make or break the potential online connection. Some girls are bashful to show their real pictures because guys seem to be looking for the iconic male – the sexy model who preferably has a lot of money and drives a father's Ferrari. This is especially true on free dating sites that are open for everybody and this attract all sorts of players and drama queens. Finding a girl on Facebook can be even more difficult. If the guy goes too far and messages a girl too soon he can even be reported for harassment.
Below you will find the signs that will help you spot a fake profile with 99% accuracy. Dating online should be both exciting and fun. Don't get scared away from possibility of a fake profile and just keep on looking. These tips have proven to be helpful in avoiding the pitfall of a fake female profile:
The obvious one. If the profile of the user is not uploaded, it could be that the profile has just been started up as a fake.
If the girl on the photo looks too good compared to others on this dating site, this should raise a red flag.
When a girl in her profile refers you to her other web pages; this could be an invitation to a web page for adult entertainment.
Email responses to a profile that go right into detail. If there has never been personal contact before this, it is a sign that it is fake.
Be cautious: foreign girls who are looking to get a ticket to the U.S. or money sent are usually not looking for true love.
PMs and emails asking for personal information, including address, names, social security numbers, phone numbers, most likely are automatically generated or fake.
Responses to emails that sound too perfect. If a girl likes the exact same things that are listed in your profile, this is suspicious.
If a dating site is open to everyone and has no strict member control policies in place, it's opening its doors to all kinds of scammers. Stick to some of the more well-known and legit online dating sites.
Have a good virus protector on your computer so to protect against viruses, identity theft and hackers.
Now that you understand the nine rules for avoiding fake profiles, it's time to create a killer profile that stays out of the crowd, and start chatting to girls. I highly recommend you sign up to Date dot com. It's one of the oldest premium dating sites and you can rest assured that the great guys who run it go out of their way to provide for a great and pleasant dating experience to over two million members. With date.com you'll never go wrong!