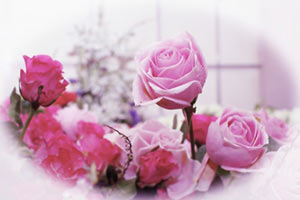 Gentlemen, it's that time of year again. Whether you've been dreading it for months after countless hints or have only just realised it's happening, there's no avoiding it – Valentine's Day is upon us. We don't like to deal in stereotypes but, unless you're a botanist or a landscape gardener, the odds are that you don't know a tulip from a turnip. Even if you've got a grasp of the floral basics, picking out the perfect Valentine's bouquet for your one and only ain't a walk in the park. For example, you might know she loves a classy, minimalist look – but you may not realise that white lilies are almost exclusively associated with funerals…not so romantic now, are they?
If you are flummoxed by flowers, don't panic. We've created this helpful guide to ensure you choose the perfect posy to make your petal swoon (and keep her sweet for a fortnight at least).
1. Go classy or go home
You might not be able to tell the difference, but chances are, your lady will be able to spot a cheap supermarket bunch a million miles off. If that's your budget, that's fine, you can always take into account tip 2 to turn them into something extra special. However, if you can afford a high end bunch, it's absolutely worth it. Carefully sourced, grown, cut and prepared flowers look truly outstanding – offering a level of perfection and beauty that your poor old gas station daffodils simply can't get close too.
Equally, if you're purchasing quality blooms, chances are you'll be using a florist. Whether this is on or offline, you'll have access to expert guidance and creative floral arrangements which will demonstrate the care you've put into your Valentine's bouquet (and just how much you love your beau too).
2. Accessories, accessories, accessories
Whether you're working with a limited budget or don't have money as an obstacle, the right accessories can take your love token to another level entirely. If you are buying supermarket blooms, make sure you replace their plastic price-marked wrappers. Simple brown paper is affordable and can look really classy – especially if tied with a colour coordinated ribbon.
Wrapping flowers up is easy. Cut yourself a rectangle (about a metre long and high enough to reach just below the petals of your bouquet). Then place your unwrapped blooms diagonally across the bottom right corner. Then simply roll them up. Secure the punch with a small piece of tape and accessorise with a ribbon which matches your bouquet. Lovely!
If your budget is bigger, your florist can do lovely things with your Valentine's bouquet. From pretty vases, hat box arrangements and gorgeous complementary extras (like choccies and bubbly), you can turn your beautiful bouquet into something really special.
3. What's in her wardrobe?
Knowing which flowers to choose is a tricky one. Unless you've actively asked about (and remembered) her favourite flowers, you may be keen to settle on the standard red rose. If your love adores sweet traditions this is always a safe, romantic bet, however, if she is less fond of cliché you may have to try a little harder. One good tip is to think about her wardrobe and choose your flowers accordingly. Does she wear a lot of rich colour and patterns? Select a vibrant bunch with lots of texture and some unusual additions. Does she keep her look laid back and fairly plain? Try some pretty classics – a bunch of white roses with a pretty spray. If your love favours a sexy, 'body con' look, opt for luscious flowers in deep, dark colours.
The Real Flower Company are award-winning florists, focusing on scent and provenance from their home in the South of England. For gorgeous Valentine's bouquets which aren't just run of the mill, visit The Real Flower Company for gorgeous, high-quality botanical inspiration your love will adore.

Image courtesy of samuiblue / FreeDigitalPhotos.net