eHarmony is one of the most popular matchmaking sites in the world for singles looking for stable, serious, long term relationships. If you were looking for a site that has a high population of mature adults and a high population of quality mature adults, you've found what you were looking for.

eHarmony is also one of the largest dating sites out there. It isn't focused on only mature adults, of course, but it does boast one of the largest senior/mature adult populations among all types of dating sites combined. It also requires a fairly high membership fee which weeds out many of the bad apples. Interestingly enough, eHarmony is also one of the few sites where women outnumber the men by a significant amount.
The reason eHarmony succeeds with its mature members when other generalized sites often do not is due to the extensive personality/compatibility system the site uses. Members take multiple tests which result in a provided list of ideal matches. These tests are smart about placing seniors/mature adults together which can help you narrow down your selection without having to join a mature-only site.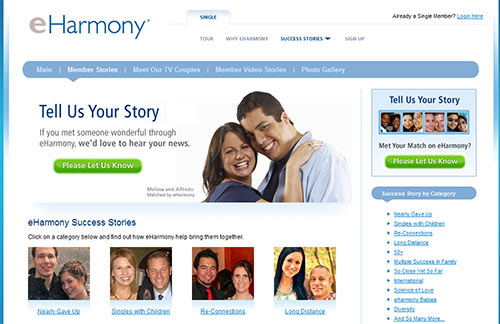 The personality/compatibility tests can also help you weed out prospective matches who may be tempted to be, well, a little less than truthful or more included to spend their weekends sleeping around. Some of the questions are aimed to wriggle out such information without coming across as extremely obvious. This trick won't work in all cases, of course, but it's pretty handy when it does work. Given that bit of knowledge, the compatibility system is certainly one of eHarmony's most intriguing features.
eHarmony is also one of the easiest dating sites to use and navigate. The interface is simple yet provides all of the features and information you could ever want from a dating site. There are also a few extra features that might come in handy. If you've ever wanted a bit of dating advice before a first date, for instance, you can test out eHarmony's interactive advice section. The best advice is free, right? Well, sort of — after that membership fee is paid, at any rate.
If you can afford a little extra money for eHarmony's personality/compatibility matching system as well as the huge number of seniors and mature adults who frequent the site, this one's well worth the membership price. Give them an honest try today, you deserve it!