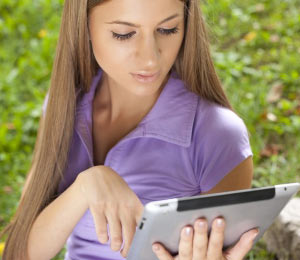 Learning how to successfully find a girl online takes a bit of strategic planning. Women who put personal profiles on dating sites tend to get a lot of perverted and otherwise nasty responses, so most are leery of replying to responses. They basically have their guard up, and rightfully so, some men have tricked women and degraded them. While many women are still interested in meeting men online they are not sure if they can always trust personal descriptions.
Beyond trusting how a man describes himself, a woman may also be leery of communications she has with a man she meets online. Obviously by chatting via emails and personal messages there is an opportunity to get to know someone, but if that person is being honest or not is always an issue. This actually happens with both genders, women as well as men are capable of being deceptive so it is wise to have a guard up.
There are a lot of crazy things that go on in the world, and people are generally behind them, so it is better to be safe than sorry. To have the desire to meet a sensuous woman online who is perfect in every way is normal, in fact it is the reason you are reading this. But to meet one that is not who she claims she is through messages and turns out to be psychotic or loaded down with more baggage than you can carry is something to avoid entirely.
So how do you meet a meet that special one, the one who makes your world spin? The answer is carefully, fellas, very carefully. After a bit of research and experience this article has been composed in a manner that can give you all the practical advice you will ever need to find and meet a girl online. There are many ways to meet women online; some are rather cheesy so we will jump right into the best ways to get started.
As mentioned, women are leery creatures by nature, and considering some of the things they hear from men it is rightfully so. Most women are tired of getting a ton of responses to their personal profile and most of them being disgusting or a turn off in other areas. These women have figured out the ropes and no longer place their profiles on date sites that are free for users.
The higher class dating sites seem to be attracting more women because of the class and integrity of the members being somewhat higher. These sites often provide the members with a more detailed profile, and considering they require a membership fee many members are seemingly more serious about relationships. Women seem to find these sites more attractive because the members are actually serious and not just looking to score.
Though some members may be on these sites to get lucky most are truly genuine about meeting someone and connecting with them. To get started on a site such as this it is important to consider building a profile that will speak to women. Women know what they want in life and by creating a profile that entices them it is likely the profile will be taken seriously, and so will you.
Making a list of your personal qualities, hobbies, personal interests, and your goals and aspirations will help with creating a profile that will be found attractive. The goal is to make your profile stand out, to give it a sizzling flavor that is hard to resist. As most men know, women are into sharing, so being upfront about your personality and personal information will help the gals see you as a person who is honest and trustworthy.
Sharing this information will give a woman an idea of whether or not you are someone she would like to get to know better. Being honest about your looks and personality is a plus, as women do not like to be lied to. Telling a woman you have rock hard abs when you are sporting a beer gut is not a great way to get off to a good start.
As with all relationships, we all must accept certain flaws about our partners. Flaws in character as well as physical appearance are important to share. After all, it would be rather disappointing to have a woman tell you she is all that and meet her face to face and discover that she may have been all that, several years ago, or only in her dreams. Yet if she would have been honest, there could have been a connection.
Looks are important for the laws of attraction of course, but they do not rule the universe. Spice up your profile with high quality pictures; be specific about what you are looking for in a relationship, and share information to lure the gal of your dreams. If that gal is online she will find your profile to be irresistible. When you get her attention, be careful to keep her attention in the right ways and that membership fee will pay off in more ways than one.
Image courtesy of adamr / FreeDigitalPhotos.net